Lecce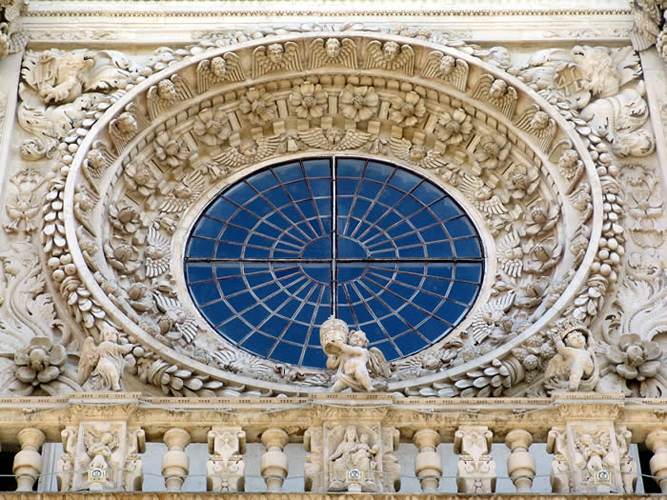 Lecce is the triumph of Baroque, revealed in its churches, squares and palaces, rich and opulent in their decor: church façades dotted with little putti, and apotropaic masks welcoming you at the entrance of palaces, columns wrapped with climbing stone acanthus leaves.

The Basilica of Santa Croce, whose construction involved three architects over three centuries of work, is an extraordinary example of Lecce Baroque style with its hundreds of symbols and mythological figures. The imposing Palazzo dei Celestini, dating back to the mid-16th century, is today the seat of the Province administration and of the Prefecture. Just a few meters ahead, Piazza S. Oronzo opens in front of you with its majestic Column erected in 1660, its Amphitheater and the Palazzo del Sedile (1592). So many churches are scattered around the historic center, each one with its own distinct features.

The Church of Saint Matteo for instance, in Via de Perroni, with its outstanding façade, the lower part convex and the upper part concave. An octagonal shape characterizes the Church of Saint Chiara, while the Church of Saint Irene (1591-1639) stands out for its Corinthian columns at the sides of its portal. The Church of the Rosary was built in 1691 based on a project by Giuseppe Zimbalo. Worthwhile visiting is the Castle of Charles V, now a prestigious venue for special events and exhibitions, or the historic Paisiello Theater (1870), or the three gates that once gave access to the city (Porta Rudiae, Porta Napoli, Porta San Biagio), and the splendid Cathedral Square, a dreamlike open air stage looking over the magnificent Cathedral, the Bishop's Palace, and the late 17th century Seminary, which today accommodates the Diocesan Museum, and the Baroque Bell Tower.